Under det gångna året har Microsoft undan för undan gjort spelen i Halo-serien tillgängliga även för PC-spelare. Hittills har seriens första och andra del tillsammans med prequel-titeln Reach letar sig över till PC, och nu kan även Halo 3 köpas och laddas ned till Windows 10-datorer. Likt tidigare delar finns här stöd för att bygga nivåer via verktyget Forge och spel med andra i multiplayer.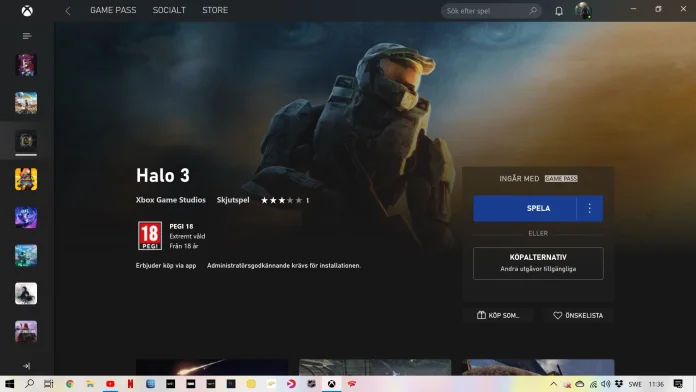 Utöver spellägen utlovar Microsoft och utvecklarna 343 Industries att PC-versionen av Halo 3 kommer med en rad olika buggfixar och generell polering, vilket förhoppningsvis inkluderar några av spelets ljudrelaterade buggar. En mer detaljerad beskrivning av allt som är nytt med samtliga spel i samlingen och Halo 3 specifikt finns att läsa hos Halo Waypoint.
Nyheter i Halo 3 för The Master Chief Collection-uppdateringen
New Features
(PC) Forge is now available for Halo: Reach, Halo 2: Anniversary, and Halo 3.

Halo 3 Forge has been updated with new features, including Object Physics, rotation, coordinate snap and precision edit tools.

Halo 3 and Halo: Reach Forge pallets have been expanded with new objects and budget increases.

Halo 3, Halo: Reach, and Halo 2: Anniversary Forge tools have been updated with a new "Toggle Rotation Axes" feature adding toggleable rotation around World and Local axes. Note: This is planned to be added into Halo 4 at a later date.

Updated season unlock flow to feature non-linear unlocks per page and added Season 2 featuring 30 new nameplates, 46 new H1 Weapon and 18 H1 Vehicle skins.

Challenges are now available to complete across all available titles. Note: Campaign Challenges are currently not supported in Halo 4: Spartan Ops.

New spartan customization 3D model viewer for Halo 3.

Updated Skill Rank backend for Ranked Matchmaking. This resolved a long-standing rank reset issue and has required us reset all ranked playlists to 1.

"Highest Lifetime" rank is now displayed for rotational hoppers that are no longer available.

Halo: Reach & Halo 3 audio has been updated.

New Acrophobia skull for Halo 3.

"Dual Wield Inversion" has been added as a toggle for players who wish to disable the title from switching the "primary fire" weapon to your left-hand while dual wielding in Halo 2 or Halo 3.
Global (PC)
Fixed an issue where the "He's Running a Marathon", "The Guardians are Coming" and "Why am I Here?" achievements would not unlock in Steam after unlocking them on Xbox Live.

Fixed an issue where the campaign preview widget would appear on the root Main Menu after a sign-in change.

Fixed a crash which could occur when entering the Seasonal Overview immediately after sign-in.

Improved how the Seasonal Overview is displayed in non-standard aspect ratios.
Halo 3 (All Platforms)
Audio has been updated with Waves integration, aligning closer to Xbox 360 quality.

Several matte paintings have been updated with higher fidelity versions in Campaign cinematics.

Customization has been updated to support individual armor pieces and tertiary colors.

Emblems now display on armor in gameplay.

Footsteps in the snow no longer appear with black textures.

Fixed some incorrectly lit particles when Scarabs or Phantoms were destroyed.

Hornet and Brute Chopper turning speed has been improved to better match Xbox 360.

Added the Fuel Rod Gun, Sentinel Beam, Carbine, Mauler, and Plasma Rifle as starting weapons to Custom Games.

Fixed an issue where the prowler was misrepresented as the mauler in tools of destruction on the Post Game Carnage Report.

Fixed issues where some strings extended outside of the gametype objective widget in non-English languages.
Uppdateringen som adderar Halo 3 till samlingen väger in på 20,84 GB, och totalt tar hela samlingen upp strax över 93 GB. Halo 3 laddas ned som en del av The Master Chief Collection vilken kan köpas separat i Windows Store eller Steam-butiken till ett pris om 399 kronor. Samlingen ingår för den som är Xbox Game Pass för PC-prenumerant, vars introduktionspris ligger på 45 kronor per månad under dess betaperiod. De olika delarna kan också köpas separat till ett pris om 99 kronor styck.
Med Halo 3 i uppställningen återstår endast två utlovade tillägg. Under hösten år 2020 ska både sidospåret Halo 3: ODST och Halo 4 tillkomma. Microsoft har inte nämnt om den ännu Xbox One-exklusiva titeln Halo 5: Guardians också ska leta sig över till PC-plattformens breddgrader framöver. Nästa del i serien blir Halo: Infinite som släpps till PC/Windows och Xbox Series X mot slutet av året.
Läs mer om Halo: