Inom ljud och bild är VESA en av många organisationer som står för standarder. Förutom populära fästanordningar – kallade just VESA-fästen – för skärmar ligger de även bakom Displayport, som nu tar klivet från version 1.4 till 2.0. Som namnet anger handlar det om en av de största förändringarna på länge.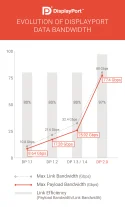 Dagens Displayport 1.3/1.4 erbjuder som högst en bandbredd på 32,4 Gbps, för en effektiv bandbredd om 25,92 Gbps innan 8b/10b-kodning. Något som går under beteckningen HBR3, High Bit Rate 3. Med version 2.0 tar bandbredden ett rejält kliv upp till hela 80 Gbps. Samtidigt går Displayport över till mer effektiv 128b/132b-kodning för en effektiv bandbredd om 77,37 Gbps.
Den högre bandbredden möjliggör för 8K-upplösning i 60 Hz med HDR, och med SDR kan frekvensen skruvas upp eller bibehållas för att istället öka upplösningen. Samtidigt utlovas bakåtkompatibilitet då Displayport 2.0 kan använda samma fysiska kabel som tidigare, men USB Type-C också ingår i standarden och är ett alternativ tillverkare kan använda.
Den trefaldiga ökningen i effektiv bandbredd beror dels på den nya kodningen, som sänker overhead från tidigare 20 procent till omkring 3 procent. Den andra delen är att VESA omfamnar Intels tidigare stängda och numera öppna standard Thunderbolt 3, som redan erbjuder bandbredden på upp till 80 Gbps.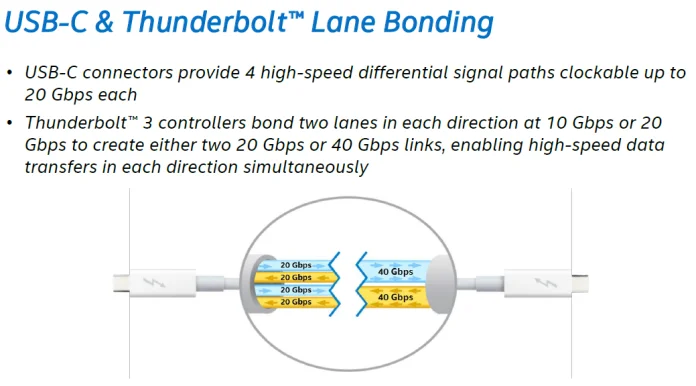 Displayport 2.0 är dock annorlunda mot Thunderbolt 3, som erbjuder en maximal bandbredd på 40 Gbps åt två håll (Full Duplex, Bidirectional). VESA:s mål är endast att skicka signalen åt ett håll – till skärmen – vilket gör att bandbredden kan dubbleras till 80 Gbps (Simplex, Unidirectional).
Den bandbredd som utlovas ställer extremt höga krav på kabeln och hur VESA tänkt lösa detta är ingenting de har ett svar på. Standardiseringsorganet har därför introducerat tre olika överföringshastigheter per kanal (UHBR) för Displayport 2.0, varav endast den lägsta kan användas med mer prisvärda passiva kablar.
Bandbredd

Effektiv bandbredd

Kabel

DP 1.3/1.4 (HBR3)

32,4 Gbps

25,92 Gbps

Passiv koppar

DP 2.0 (UHBR 10)

40 Gbps

38,69 Gbps
(+49,3%)

Passiv koppar

DP 2.0 (UHBR 13.5)

54 Gbps

52,22 Gbps
(+100,1%)

Inbyggda

DP 2.0 (UHBR 20)

80 Gbps

77,37 Gbps
(+198,6%)

Inbyggda
I praktiken innebär detta att Displayport 2.0 med UHBR 10 är det högsta läge som är möjligt med vanlig kabel. Det här läget ger en ökad bandbredd på närmare 50 procent jämfört mot dagens Displayport 1.3/1.4, från 25,92 Gbps till 38,69 Gbps efter kodning.
För de högre lägena UHBR 13.5 och UHBR 20 ser VESA framför sig att att dessa kablar är integrerade (eng. tethered) i enheten. Dessa kan vara passiva, men korta, eller långa aktiva med mottagare i båda ändar. Nämnvärt är att VESA inte stänger dörren för att de högre hastigheterna blir möjliga med lösa och passiva kablar längre fram i tiden.
Sett till vad UHBR 10 klarar räcker det med nöd och näppe till för att leverera 4K UHD (3 840 × 2 160 pixlar) i 144 Hz med 10-bitars HDR. Med dagens påkostade spelskärmar med dessa egenskaper måste användare välja att kompromissa på antingen upplösning, frekvens eller färgerna, då bandbredden i Displayport 1.3/1.4 inte räcker till.
Den nya Displayport 2.0-standarden väntas leta sig ut i färdiga produkter mot slutet av 2020, det vill säga om drygt ett år.
Klicka här för att läsa hela pressmeddelandet
VESA PUBLISHES DISPLAYPORT™ 2.0 VIDEO STANDARD ENABLING SUPPORT FOR BEYOND-8K RESOLUTIONS, HIGHER REFRESH RATES FOR 4K/HDR AND VIRTUAL REALITY APPLICATIONS
DisplayPort 2.0 enables up to 3X increase in video bandwidth performance (max payload of 77.37 Gbps); new built-in features enable improved user experience, greater flexibility and improved power efficiency
SAN JOSE, Calif. – June 26, 2019 – The Video Electronics Standards Association (VESA®) today announced that it has released version 2.0 of the DisplayPort™ (DP) audio/video standard. DP 2.0 is the first major update to the DisplayPort standard since March 2016, and provides up to a 3X increase in data bandwidth performance compared to the previous version of DisplayPort (DP 1.4a), as well as new capabilities to address the future performance requirements of traditional displays. These include beyond 8K resolutions, higher refresh rates and high dynamic range (HDR) support at higher resolutions, improved support for multiple display configurations, as well as improved user experience with augmented/virtual reality (AR/VR) displays, including support for 4K-and-beyond VR resolutions.
The advantages of DP 2.0 are enjoyed across both the native DP connector as well as the USB Type-C connector, which carries the DP audio/video signal through DisplayPort Alt Mode. DP 2.0 is backward compatible with previous versions of DisplayPort and incorporates all of the key features of DP 1.4a, including support for visually lossless Display Stream Compression (DSC) with Forward Error Correction (FEC), HDR metadata transport, and other advanced features. The increased video bandwidth performance of DP 2.0 carried over the USB-C connector enables simultaneous higher-speed USB data transfer without compromising display performance. DP 2.0 leverages the Thunderbolt™ 3 physical interface (PHY) layer while maintaining the flexibility of DP protocol in order to boost the data bandwidth and promote convergence across industry-leading IO standards.
In addition, the new data rates of DP 2.0 come with a display stream data mapping protocol common to both single-stream transport and multi-stream transport. This common mapping further facilitates multi-stream transport support of DP 2.0 devices for a single DP port on the source device to drive multiple displays either via a docking station or daisy-chainable displays. First products incorporating DP 2.0 are projected to appear on the market by late 2020.
"DP 2.0 offers differentiated end-to-end user experiences, across a multitude of market segments, such as productivity and gaming, as well as wider end-to-end interoperability with various connectivity options. It sets a new paradigm for display interface specifications by providing scalability from power-efficient small form-factor displays, to high-resolution and high-refresh-rate large form-factor displays," said Syed Athar Hussain, VESA Board Vice Chairman and Display Domain Senior Fellow, AMD.
"Intel's contribution of the Thunderbolt™ PHY layer specification to VESA for use in DP 2.0 is a significant milestone making today's simplest and most versatile port also the highest performing for display," said Jason Ziller, General Manager, Client Connectivity Division at Intel. "By collaborating with VESA, we're enabling common building block technologies to come together across a wide range of devices and increasing compatibility to deliver better experiences to consumers."
Higher-resolution Demands Mandate New Developments in Display Interfaces
Industry efforts are underway to push video broadcasting beyond 4K/Ultra HD resolutions, while 8K televisions and PC monitors are already beginning to hit the market. For example, the Japan Broadcasting Company (NHK) has announced plans to broadcast the 2020 Summer Olympics in 8K, and has already begun to broadcast 8K content to viewers.
At the same time, gaming platforms are pushing the envelope on immersive gameplay, driving demand for higher resolutions and video frame rates across PC, laptop, and mobile platforms, including smart phones and VR headsets. Further developments in display interfaces are needed to address these developments.
Tripling Data Bandwidth Performance
The previous version of DisplayPort, v1.4a, provided a maximum link bandwidth of 32.4 Gbps, with each of the four lanes running at a link rate of 8.1 Gbps/lane. With 8b/10b channel coding, that equates to a maximum payload of 25.92 Gbps. DP 2.0 increases the maximum link rate to up to 20 Gbps/lane and features more efficient 128b/132b channel coding, delivering a maximum payload of 77.37 Gbps – up to a three-fold increase compared to DP 1.4a. This means that DP 2.0 is the first standard to support 8K resolution (7680 x 4320) at 60 Hz refresh rate with full-color 4:4:4 resolution, including with 30 bits per pixel (bpp) for HDR-10 support.
Maximizing Gains on USB-C connector
The performance increases enabled by DP 2.0 are through both native DP connectors and the USB-C connector via DP Alt Mode. USB-C allows a single connector for USB data, video data and power. If simultaneous support of SuperSpeed USB data and video is needed, the significantly increased data rates enabled by DP 2.0 give users the ability to have power and SuperSpeed USB data at the same time as super-high-resolution video.
DP 2.0 Configuration Examples
With the increased bandwidth enabled by DP 2.0, VESA offers a high degree of versatility and configurations for higher display resolutions and refresh rates. In addition to the above-mentioned 8K resolution at 60 Hz with HDR support, DP 2.0 across the native DP connector or through USB-C as DisplayPort Alt Mode enables a variety of high-performance configurations:
Single display resolutions
Dual display resolutions
Triple display resolutions
When using only two lanes on the USB-C connector via DP Alt Mode to allow for simultaneous SuperSpeed USB data and video, DP 2.0 can enable such configurations as:
"Being an open standards body comprising more than 280 member companies across the electronics value chain gives VESA a unique vantage point to anticipate the needs of the display market several years out and add new capabilities to our standards ahead of demand," stated Alan Kobayashi, VESA Board Chair and VESA DisplayPort Task Group Chair. "DP 2.0 represents one of our most significant milestones in the history of DisplayPort, and is the culmination of several years' effort and major enhancements to this ubiquitous standard. Like the previous versions of DisplayPort that helped pave the way for major inflection points in video technology such as UHD, 4K, 5K, video over USB-C and HDR, DP 2.0 will help take the industry to the next level – enabling even higher frame rates and resolutions up to and beyond 8K, greater flexibility in display configurations including multiple monitor setups, as well as improved power efficiency."
Improving Power Efficiency
DP 2.0 also supports VESA's new Panel Replay capability, which is designed to optimize the power envelope and thermal performance of smaller end devices, such as all-in-one PCs and laptops, with higher resolution displays. Similar to the Panel Self Refresh capability in Embedded DisplayPort (eDP), Panel Replay incorporates a partial update feature that enables the system video processor, or GPU, to update only the portion of the display that has changed since the video frame update, thus saving system power. Advantages include the ability to recharge a device more quickly while at the same time using it.
About VESA
The Video Electronics Standards Association (VESA) is an international, non-profit standards association representing a global network of more than 280 hardware, software, computer, display and component manufacturers committed to developing and promoting the electronics industry. For 30 years, VESA has created and supported simple, universal and cross-product solutions for today's video and electronics industry. The association's standards include DisplayPort™, the industry replacement for DVI, LVDS and VGA. DisplayPort utilizes a state-of-the-art digital protocol and provides an expandable foundation to enable astonishing digital display experiences. For more information on VESA, please visit http://www.vesa.org/.
VESA® is a registered trademark and DisplayPort™ is a trademark of VESA. Thunderbolt and the Thunderbolt logo are trademarks of Intel Corporation or its subsidiaries in the U.S. and/or other countries. All other trademarks, service marks, registered trademarks, and registered service marks are the property of their respective owners.