Den taiwanesiska moderkortstillverkaren MSI är på väg in på nya jaktmarker med gamingorienterade modeller i G-serien. Moderkorten kommer bland annat husera nätverkskrets från Qualcomm Atheros Killer-serien och klassisk PS/2-anslutning. Nu framkommer det att även Sound Blaster Cinema blir en av ingredienserna.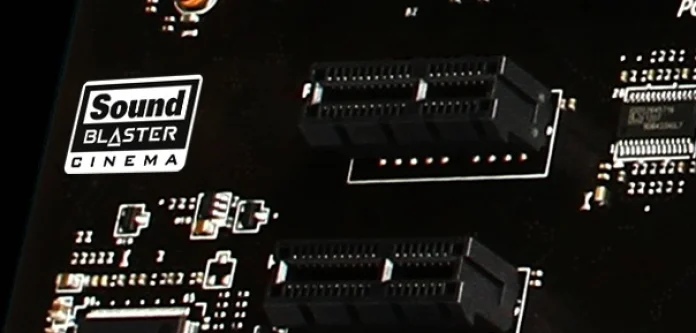 Sound Blaster Cinema ska ge bättre ljudkvalitet genom att expandera toner i låga frekvenser och återställa ljud som förvrängs vid komprimering. Tekniken utlovar även mer realistiskt surroundljud samt röstförbättringsfunktioner för såväl spel som film. Dessutom finns funktionalitet för att förhindra plötsliga förändringar av volymen och att istället erbjuda en mer konsekvent ljudnivå.
Creatives ljudteknik återfinns redan i X79A-GD45 Plus, som enligt MSI från början var tänkt att heta X79A-GD45 Gaming. MSI kommer att visa upp moderkort i G-serien på mässan Cebit den 5–9 mars. Kort därefter sker den officiella säljstarten.
Klicka här för att läsa hela pressmeddelandet
MSI Integrates Creative SoundBlaster Cinema Audio Technology into Select Motherboards
MSI, the world's leader in motherboards and graphics cards has chosen Creative Sound Blaster Cinema audio technology for its new motherboard lineup. Sound Blaster is the leading brand in PC gaming audio and MSI is excited about the prospect of providing class-leading audio technology with its motherboards. Thanks to the Sound Blaster Cinema suite of audio technologies, gamers can enjoy upgraded surround sound through their stereo headphones, enhanced gaming sound effects and Smart Volume control for long gaming sessions.
When using Sound Blaster Cinema, gamers will be able to hear their opponents more clearly and easily while enjoying the competitive advantage of accurate positional audio to reveal the precise location of their opponents. Sound Blaster Cinema will first be introduced on MSI's new Gaming motherboards, on display at CeBIT 2013 in Hanover from March 5th to March 9th.
"We are very excited to provide MSI with the latest in Sound Blaster sound technology on its new gaming motherboards"said Low Long Chye, general manager of audio for Creative. "This is the next step of our great ongoing relationship where MSI introduces new standards of Sound Blaster audio technology designed specifically for motherboard products."
Sound Blaster Cinema
Armed with the technology of the biggest name in PC gaming audio, gamers can leverage Sound Blaster Cinema to get the best sound enhancements for today's games powered by Sound Blaster SBX Pro Studio technology. Each of the five technologies of SBX Pro Studio is focused on delivering a more immersive gaming experience:
SBX Bass - SBX Bass technology dramatically improves the sound experience by expanding the low frequency tones

SBX Crystalizer - Ensures that every audio detail is heard by restoring the "highs" and "lows" that are compromised with audio compression

SBX Dialog Plus - SBX Dialog Plus intelligently enhances voices in games and moves for dramatically clearer dialog

SBX Surround - Goes beyond 7.1 surround sound creating unprecedented levels of audio realism including stunning surround effects that produce virtual speakers around, above and below you

SBX Smart Volume - Address the problem of abrupt volume level changes in games by intelligently applying gain and attenuation to deliver consistent volume levels