Galactic Empire A4-SFX
Datorer
2018-06-18 20:23 |
8624
visningar
d-x_x-b
Beskrivning
Update 2019
Featured on Setup Wars Episode 163 😊
Got a question over at SFFFORUM regarding the designs of the different panels. You can download the designs here. Open in Illustrator/Indesign or similar if you want to edit it.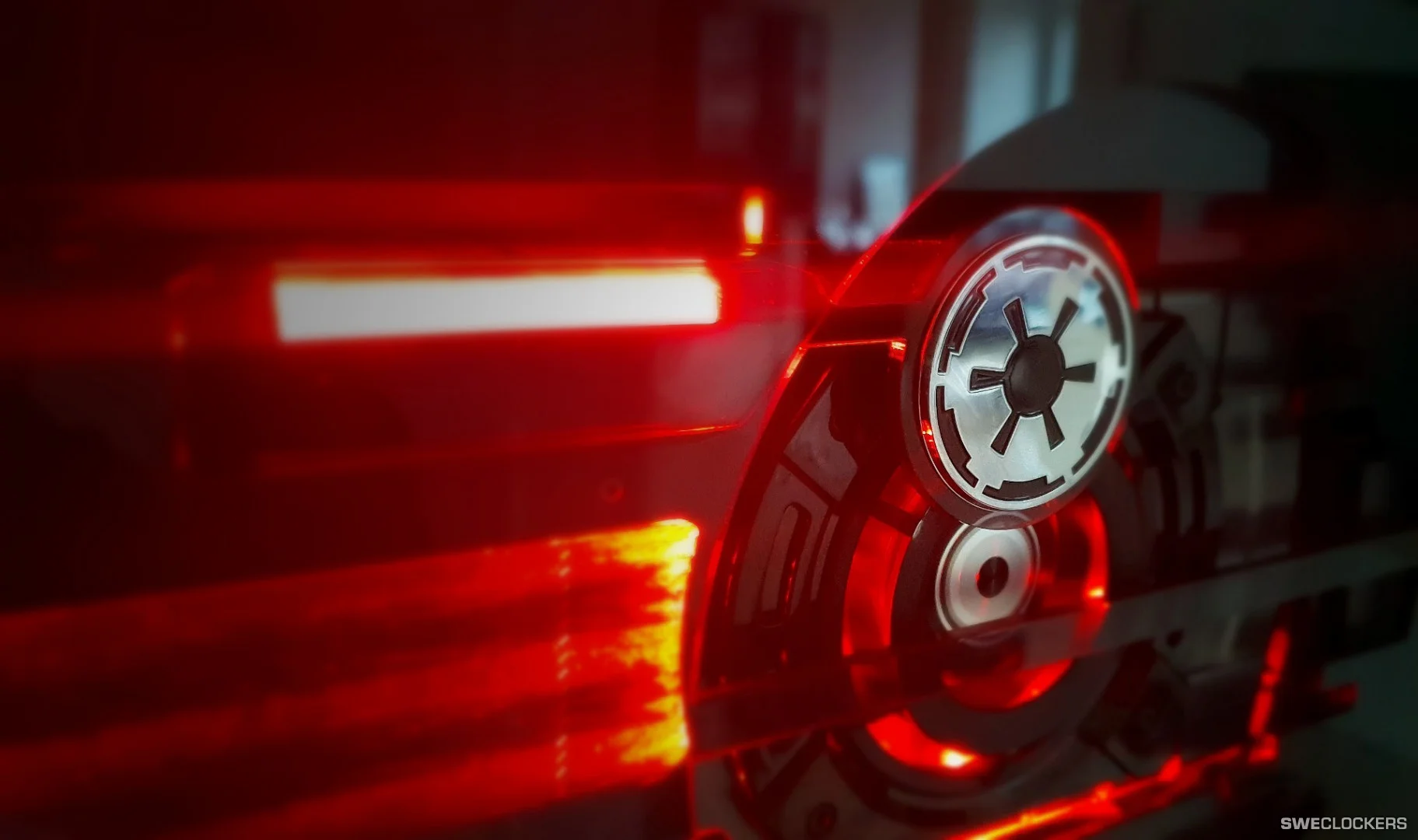 The dark side of the Force is a pathway to many abilities some consider to be unnatural.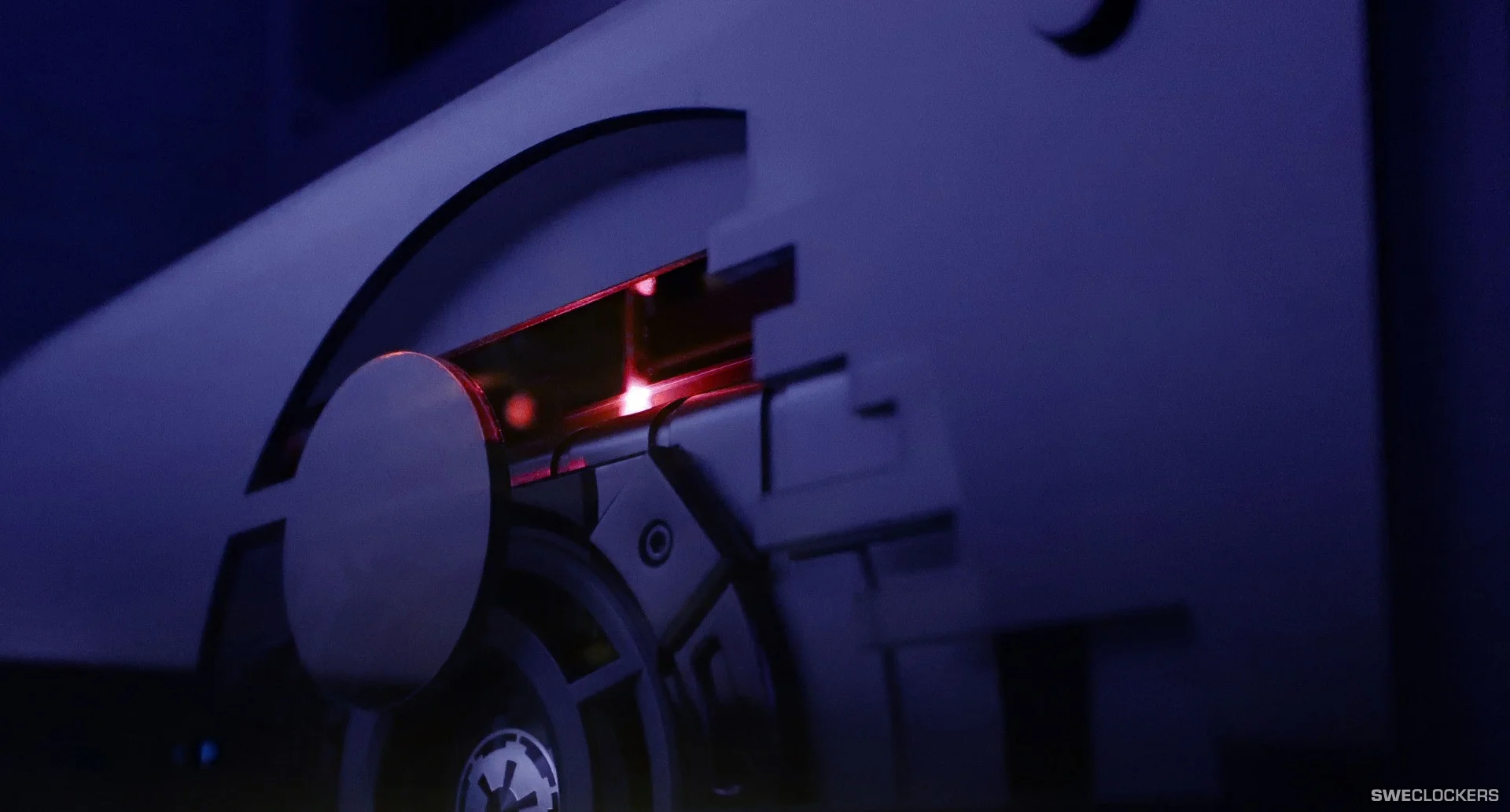 Update October 2018
Hi guys! I have gotten some questions regarding the CPU-side of the build. My main focus has been the GPU-side. This is now (more or less) completed. Since I use my computer on a shelf with the GPU-side facing me, I decided to run the CPU-side without a panel. This really improved temperatures so for now I will leave it like that. Maybe one day
Update September 2018
The gallery is back up again :)I decided to hide the gallery during the summer until more parts had arrived. Now it´s only down to a new CPU and the cable cover. Will have one version in leather and one version in Black ABS material as a dummy. Ordered from cotter.se (no affiliation).
First entry
So, the time has come for me to start building computers again. I've done quite alot of projects, mostly on Sweclockers.com, but all have been related to charity projects. However, this time I am building a computer for myself. This gallery/post will be posted on a number of different forums, so therefore English only.
I rescently moved to a larger apartment, but the "area" where I have my computer is quite alot smaller than before. So I decided to go SFF. The Dan Case was not the first choice. I was having my eye on the Louqe Ghost MkII, but it got delayed so I moved on to other options. And I am glad that I did. So far I really like what Dan has accomplished. Superb build quality and very easy to build in.
Building a new computer, I wanted to do it properly for once, not compromising with cable management and mods, but since I have no clue what I am doing when it comes to watercooling I decided to mod the things I actually can manage - side panels, cables, lighting etc. I am a huge fan of Star Wars so even if was a bit hard to swallow I finally decieded to buy a Star Wars Titan Xp, and specifically the Galactic Empire-version.
Usually not a sucker for commercials, but this got me hooked
The card is a work of art, but I wanted to make the rest of the build match.
Here my journey begins.
I will update this project with latest entry at the top so can follow along the ride. Pictures of the full build, desk, accessories and "man cave" will be posted along the way.
--------------------------------------------------------------
SPECS:
Case:
Dan Case SFX A4 – Black
GPU:
Nvidia Titan Xp Limited Edition Galactic Empire
CPU:
AMD Ryzen 2700
Cooling:
NH L9i
Motherboard:
Asus ROG STRIX B350-I Gaming
RAM:
Kingston HyperX 32GB (2x16GB) DDR4 2666MHz White
Storage:
Samsung 970 EVO series SSD 1TB M.2
Samsung 960 EVO series SSD 500GB M.2
Samsung 850 EVO series SSD 1TB SATA
Mods:
Window kit with custom glas panels from Snijlab.nl (no affiliation):
Death Star: Acrylic transparent anthracite
Accessories:
Acer X43P
Space gray Razer Lancehead Wireless
Space gray Apple Magic Keyboard with numpad wireless
Noctua NF-B9 redux-1600 92mm PWM
Custom-made cables :
By pslateCustoms (no affiliation) for my motherboard/case.
- 8 Pin CPU/EPS Cable SF600/SF450
- 8 Pin PCIE Cable SF600/SF450
- 24 Pin to 10+18 Pin Cable SF600/SF450
- 6 Pin PCIE Cable SF600/SF450
- Dual SATA Power Cable Stacked Connectors SF600/SF450
- Single SATA Power Cable SF600/SF450
RGB-kit from Asus Aura RGB (30cm with new connectors for Z370-I)
The fingerprint magnet it self It looks nice even without tempered glas or lighting, but if there´s one thing that RGB should be used for - it's Star Wars
The Titan Xp - The power of the dark side?
First, I needed new glas panels. The ones that Dan proviedes are nice but I didn't like the branding. So, my own laser cut side panels has arrived. Did the designs in 3D using the template that Dan provides. The first design is based on an image I found of the Death Star which suited my needs. I needed to add a line to keep the stations weapon in place but otherwise no alterations. The Tie Fighter is a combination of well... a Tie Fighter and the Galactic Empire logo. I need to change it a bit in order to cut it properly but I really like how the two mixed together.
I decided to abandon this route since frankly it didn't look that good.
Now we are talking The left side panel was a totally different story. I am really happy with how this turned out. Sadly you can see the need for custom cables. They will arrive sometime in the coming 2-3 weeks.
A taste of what's to come. This is the computer when it's switched off (Aura is still on from the motherboard). Hope you enjoyed the project so far. I will be updating this gallery in the coming weeks with cables, paint mods and lighting etc. Hopefully I will finish in july or august.
It's really bright outside in Sweden now (summer) but when night comes, it really shows the power of the dark side
Custom cables are always nice
June 24, 2018: Still haven´t recieved any cables yet but I started to getto mod a cable cover. Here is the super mega alpha 0.1
Here another shot. Will try to cover the power cables as well.
I find it easier to just use cardboard to get my measurements and then uset he raw data from that. After that I will convert it to a digital design using actual measurements. First 2D, then 3D. Still learning CAD so might take a while.
Measurements so far, give or take. I am thinking of printing it in a soft material and use velcro instead of screws for an easy install/removal.
First digital design of the cable cover. Will double check measurements and then start with CAD.
The finished product will look something like this. A friend offered to do the design in leather so couldn't pass that up
The prototype has arrived The smell of burnt plastic is in the air.
Looks good so far. A tight fit on A4
Trying it out with the protective plastic still on. Looking good so far.
Now with everything peeled off. Really happy with the result, even if it´s just a prototype.
The design for the CPU-side. Will be cut from polymethylmethacrylat (plastic with a reflective coating).
A new version of the cable cover. Will also be cut from polymethylmethacrylat
First try with the MasterLiquid Maker 92. Looks kinda good, but need to fix another side panel.
Looks rather good but need to do some adjustments when I convert it to digital. Will probably make two pieces so I can still make the panel in glass.
First mockup of the new panel
First try with the new panel for the CPU-side. Sadly it was missing some paint on the top left screw, so will get a replacement next week. Slowly nearing completion
New feet for the case. A bit higher, so hopefully improved flow
The build in place (still without the cable cover though). Since it´s made by hand (and for free) I am more than willing to wait. You can´t really see the PCI-E riser but you can see the RGB-cables and the Noctua NF-B9 redux-1600 92mm PWM.
The build in place (cable side).
You can also see the cable I use to charge my mouse. Very convenient to keep it in the monitor mount.
The red glow coming from the RGB-strip looks really good now when it creates a straight line
Here you can see the line more clearly
The shrine to my Commodore 64 (when opened). Will continue buying retro systems when I have the budget for it.
You Don't Know the Power of the Dark Side
Now witness the firepower of this fully armed and operational battle station.
The shrine to my Commodore 64
The complete build. Still waiting for some displates to put on each side of the desk.
More pictures of the complete build
New cover in place. Will also update with pictures of the CPU-side but have one last piece before it is complete. RGB:)
The dark side of the moon? Sorry about the mess in the background but the computer is nearing completion. I have decided to keep it as it is, for now allthough I´m not 100% happy. The AMD-fan really made a difference but in retrospect I should have made the panels black and not reflective. But yeah, maybe next time. I later decided to use the Noctua cooler instead since this had a really loud pump noise.
Thanks for following along. May the force be with you, always.
About a year after now. Not much has changed. Updated the specs of the PC to an eight core Ryzen 2700 and got "some" more games Also added some ergonomic support for my arms since this is now my office. Here you can see how small the space really is. It used to be a closet with just cleaning supplies
Some of the games Had to add some shelves to but worked out nicely. Sorre for the messy background. Here you can see how small the space really is. It used to be a closet with just cleaning supplies
My pride and joy up to the right. Last of Us Press kit.